Tell me a Story / silkscreen poster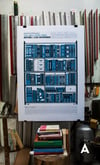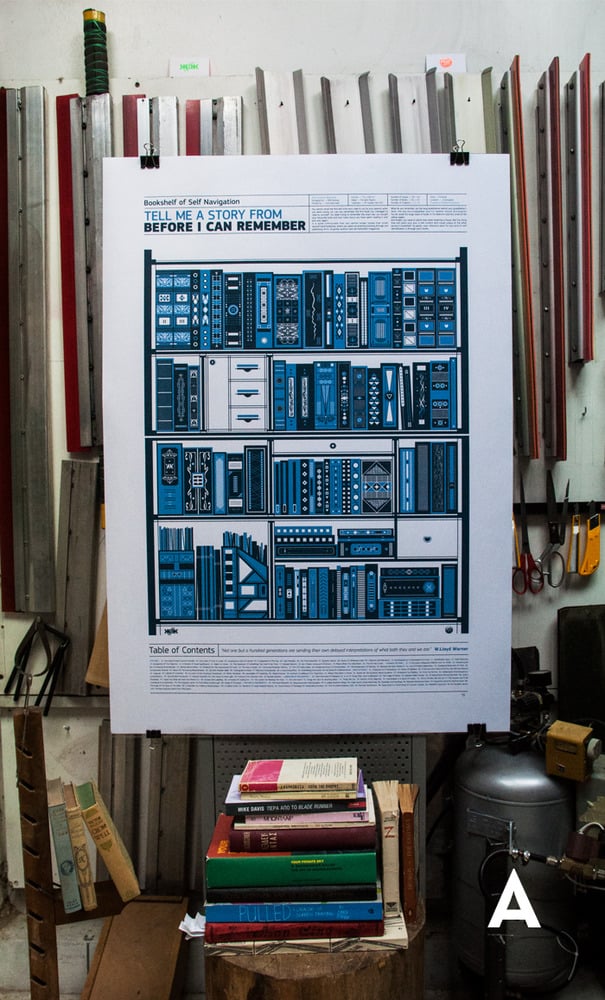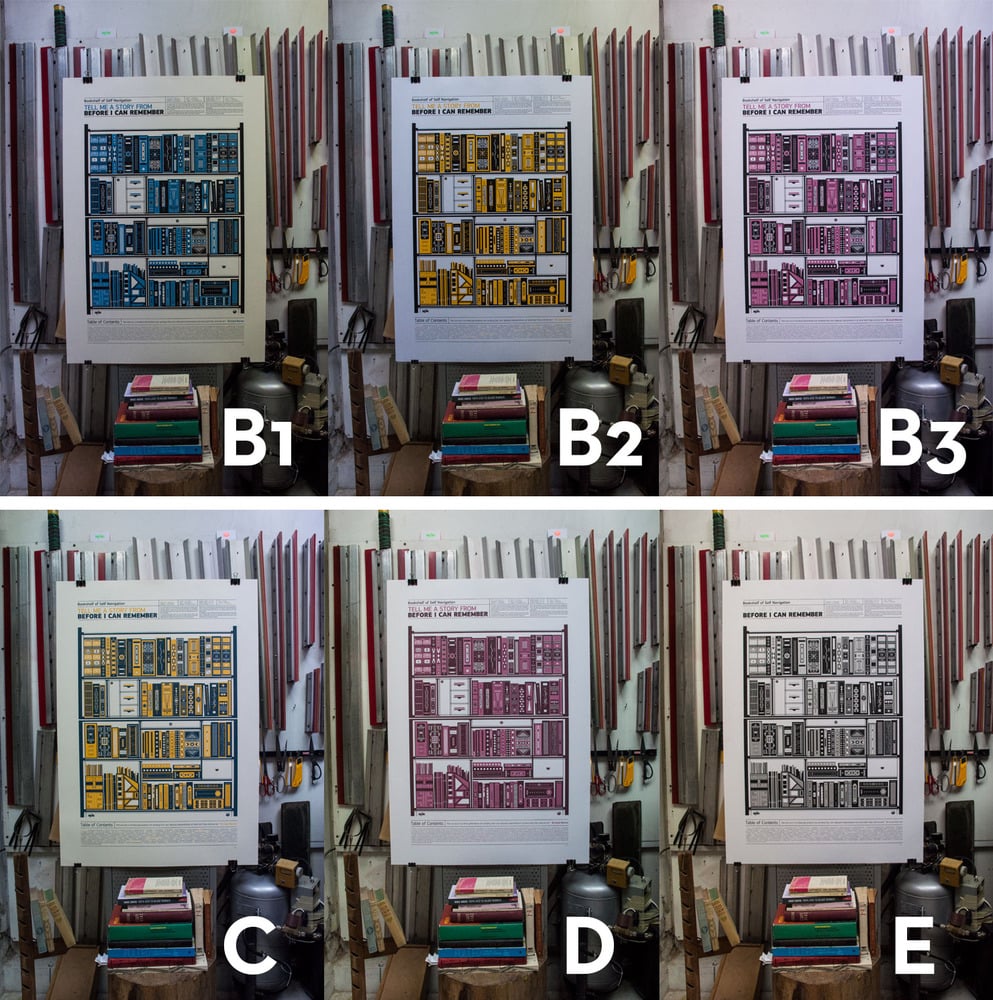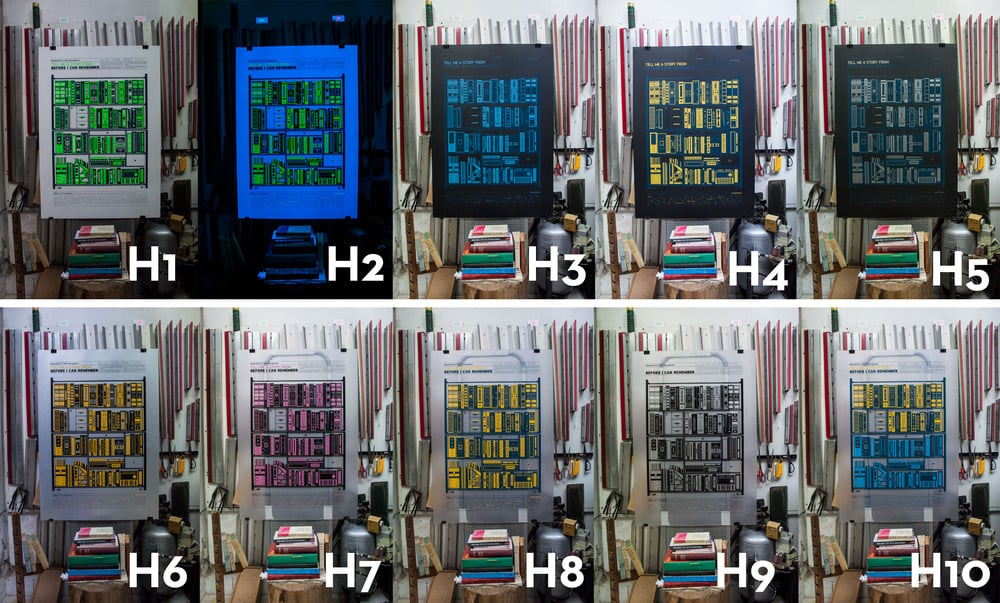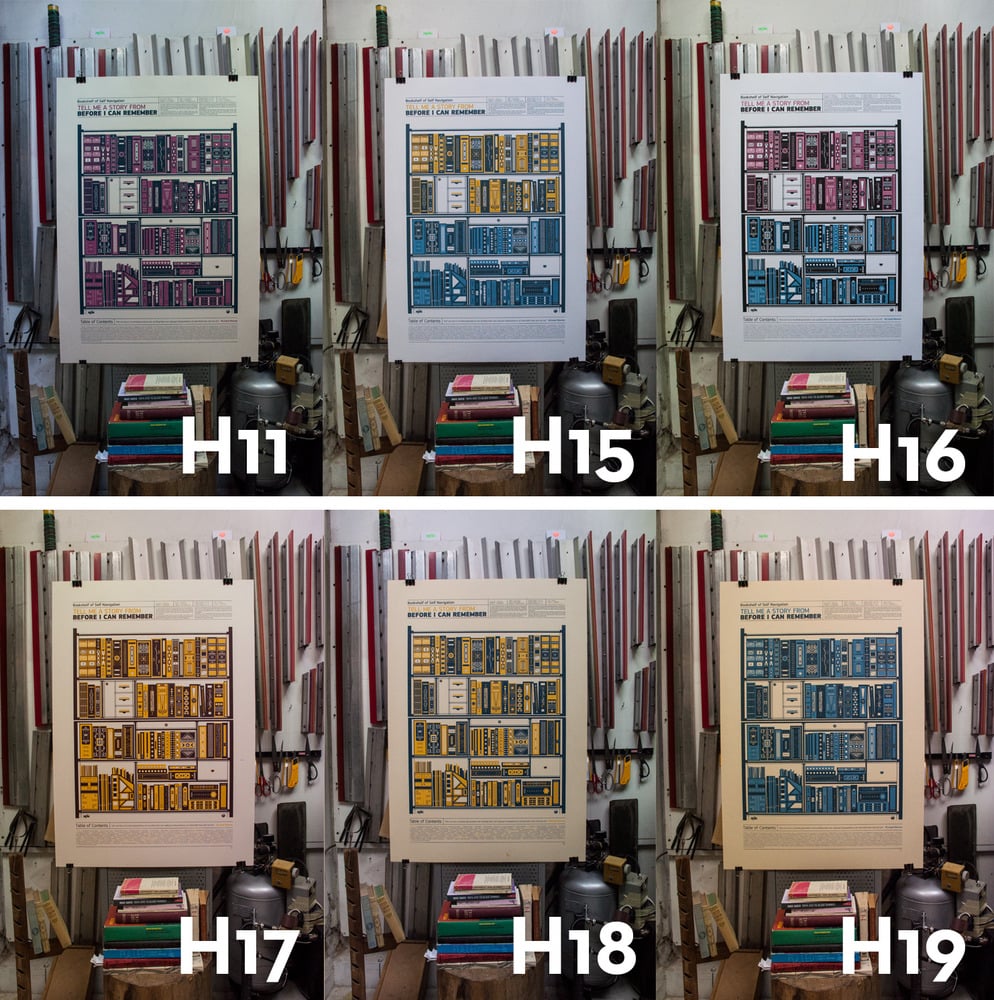 For those who don't have a bookshelf we have the solution.
"A poster dedicated to the space, where our favourite stories are kept safe. Our bookshelves shape our virtual "spaces", where the voices of our favorite authors and their characters are placed next to each other"
Designed with care by keik bureau
Screen Printed with love by tind and erato
see making of the poster here
A 70cm x 100cm / 27.5inch x 39.4inch silkscreen print
with 2 colors on 10 main color combinations and screen printed on a variety of papers and materials. Many limited editions / All Signed and numbered by the artists.
Every print is packed with love and care with mini extra stickers and mini prints, send as "signed for" and shipped at the end of every week.
A/ Dark Blue + Light Blue / series of 5
B/ Black with 3 color combinations / series of 14
Β1/ Black + Light Blue / series of 8
B2/ Black + Yellow / series of 3
Β3/ Βlack + Pink / series of 3
C/ Dark Blue + Yellow / series of 3
D/ Brown + Pink/ / series of 6
E/ Black + Silver / series of 6
WHITE PAPERS: Munken Polar 170gsm / Blanc Beige 170gsm / Conqueror-Connoisseur Soft White 160gsm / Curious: Metalic Ice Silver + Metalic White Gold 120gsm
F/ Pink Papers / Limited Color Combinations / series of 9
F1/ Black + Light Blue / series of 2
F2/ Black + Pink / series of 1
F3/ Brown + Pink / series of 2
F4/ Dark Blue + Light Blue / series of 4
F5/ Brown + Yellow / series of 1
F6/ Black + Silver / series of 1
PINK PAPERS: Curious Metallic Nude 120gsm / Metal-pink 120gsm
G/ Blue Papers / Limited Color Combinations / series of 8
G1/ Dark Blue + Pink / series of 1
G2/ Black + Pink / series of 2
G3/ Black + Light Blue / series of 1
G4/ Dark Blue + Yellow / series of 2
G5/ Dark Blue + Light Blue / series of 2
LIGHT BLUE PAPERS: Papago Σύννεφο 240gsm
H/ Unique & Various papers / ULTRA LIMITED / series of 20
H1/ Dark Blue + Green Fluorescent / PVC / series of 1
H2/ Black + Green Fluorescent / PVC / series of 1
H3/ Dark Blue + Light Blue / Black PVC / series of 1
H4/ Dark Blue + Yellow / Black PVC / series of 1
H5/ Dark Blue + Silver / Black PVC / series of 1
H6/ Black + Yellow / Grey Sticker
H7/ Black + Pink / Transparent PVC
H8/ Dark Blue + Yellow / Transparent PVC
H9/ Dark Blue + Silver / Transparent PVC
H10/ 3 Colors (Dark/Light Blue + Yellow) / Transparent PVC
H11/ Dark Blue + Pink / Reaction 310gsm
H12/ Dark Blue + Light Blue / Reaction 310gsm
H13/ Brown + Pink / Reaction 310gsm
H14/ Brown + Yellow / Reaction 310gsm
H15/ 3 Colors ( Dark/Light Blue+Yellow /
H16/ 3 Colors ( Dark/Light Blue+ Pink
H17/ Brown + Yellow / Recycled Paper 240gsm
H18/ Dark Blue + Yellow / Recycled Paper 240gsm
H19/ Dark Blue + Light Blue / Recycled Paper 240gsm
ULTRA LIMITED COLORS + UNIQUE MATERIALS ( BLACK PVC + RECYCLED PAPER + TRANSPARENT PVC)
Tweet